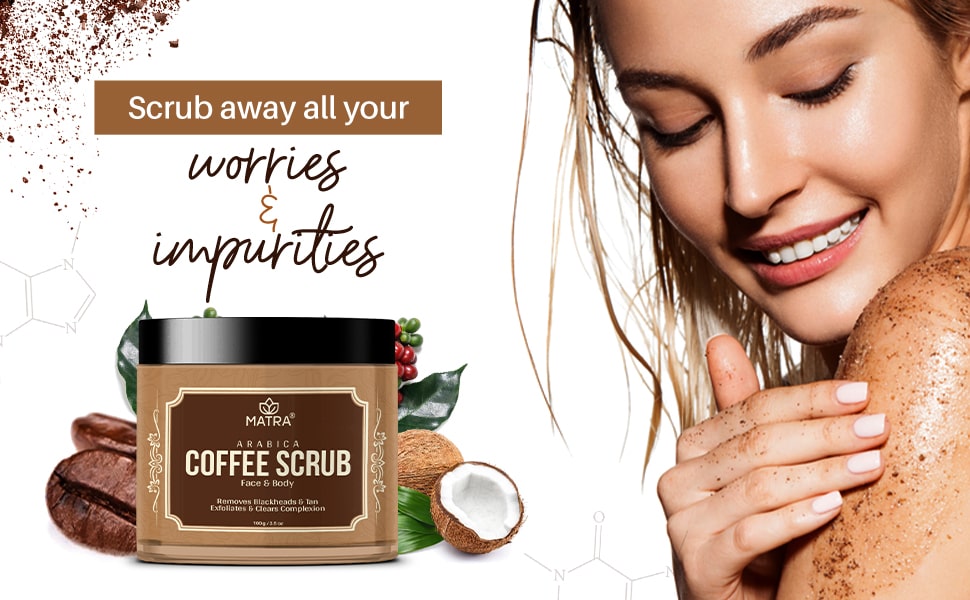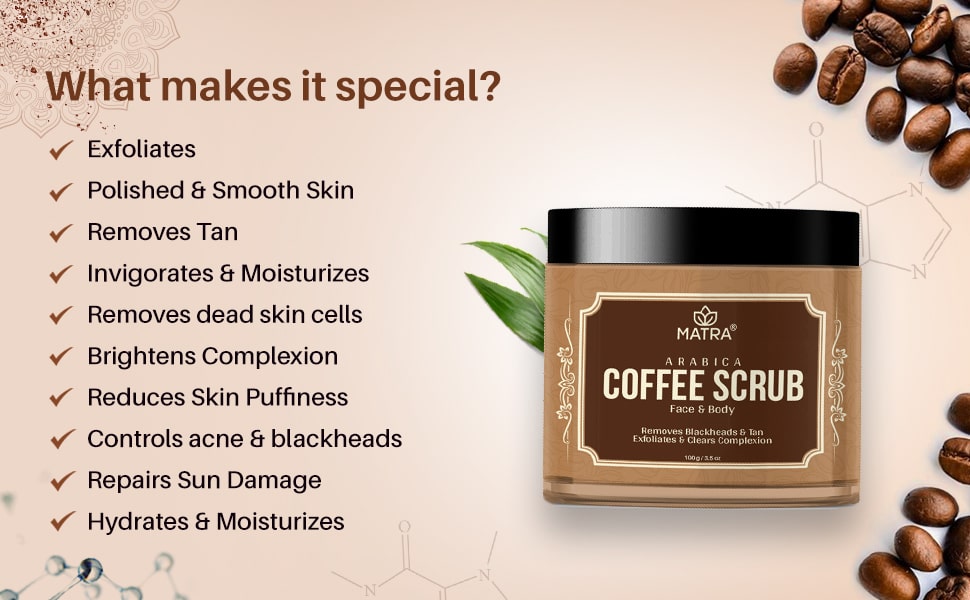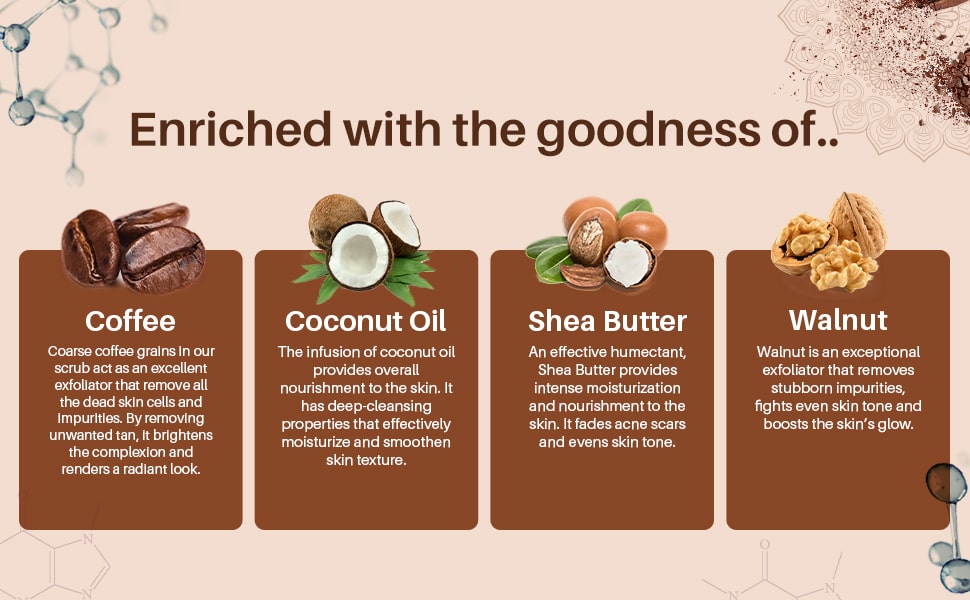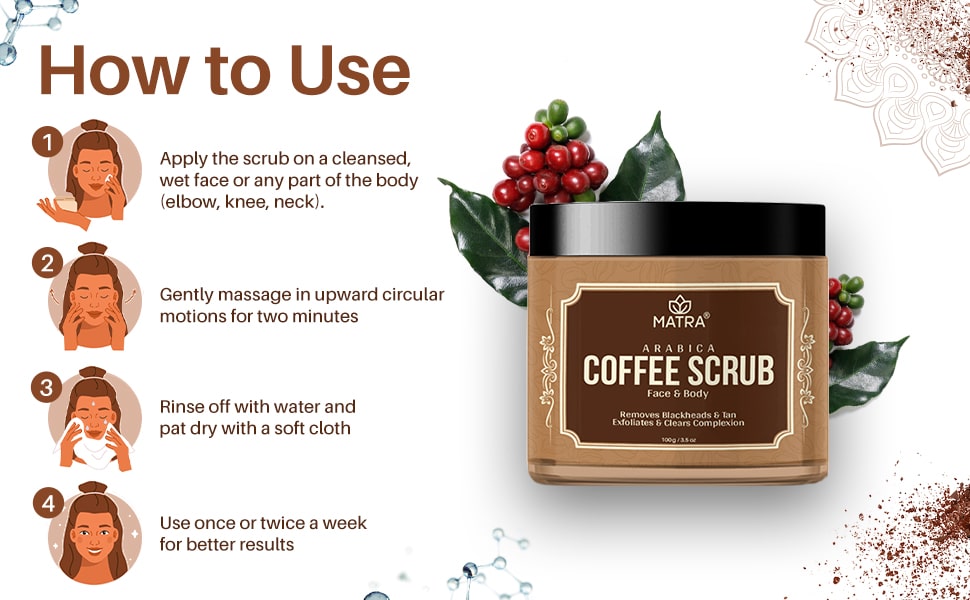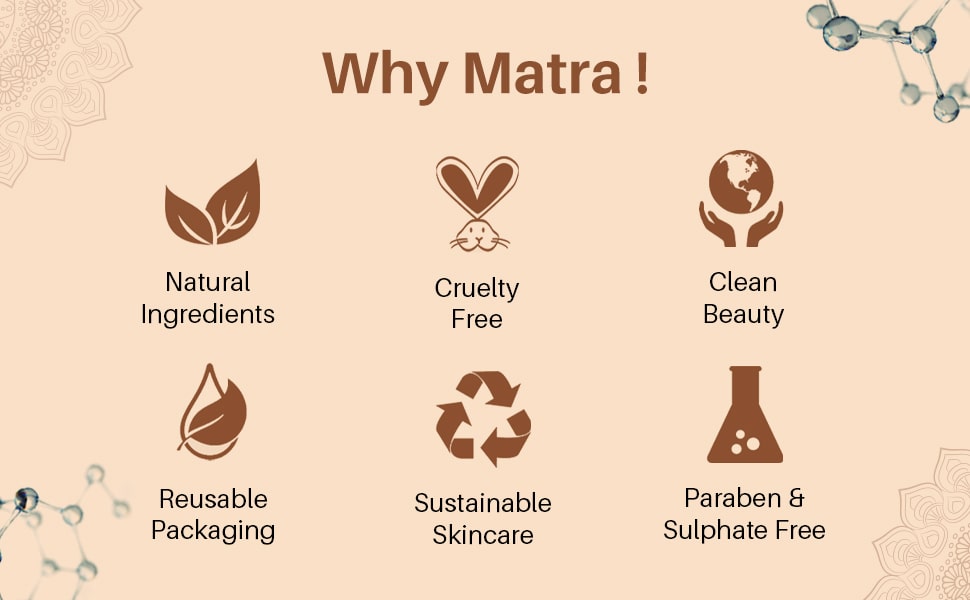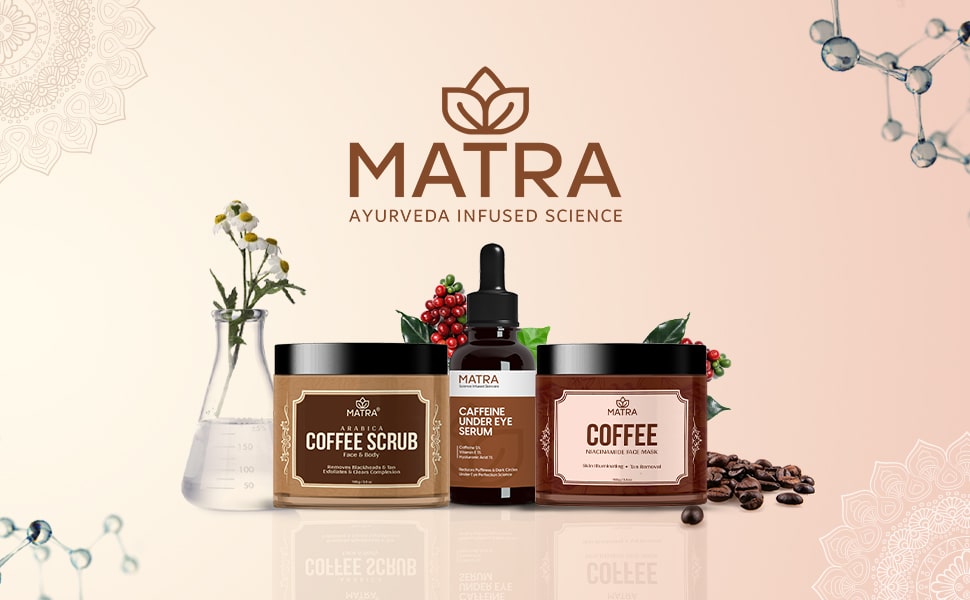 Transform your skin with Matra Arabica Coffee Scrub which awakens the skin and renders it a radiant glow. Our antioxidant-rich face and body scrub gently exfoliates skin without stripping off its natural oils. It deeply detoxifies and clears the complexion, removes tan, blackheads, and acne revealing a clear and even skin tone.The invigorating fragrance of coffee immediately boosts your mood and rejuvenates your senses. Coffee polishes the skin, reduces skin puffiness, fades dark spots, and removes dead skin cells.
Coconut Oil and Shea Butter help moisturize and hydrate the skin making it feel smooth and supple.
Benefits:
DEEP SKIN EXFOLIATION & POLISHES SMOOTH SKIN: Matra Arabica Coffee Scrub gently exfoliates skin to unclog pores and removes all the impurities, dead skin cells, blackheads, and whiteheads. It helps reverse damage caused due to daily exposure to pollution and dirt thus imparting a radiant and youthful glow to your skin. It polishes your skin to give it a smooth, nourished, and healthy look. 
GOODNESS OF POWERFUL INGREDIENTS: Matra Arabica Coffee Scrub is infused with powerful ingredients like Coffee, Coconut, and Walnuts. Coffee soothes your skin and senses and activates your mind and soul. This energizing face scrub renders your skin luminous and removes impurities to improve skin texture and provide deep nourishment. 
TAN REMOVAL, BRIGHTENED COMPLEXION & REDUCED SKIN PUFFINESS:  Matra Arabica Coffee Scrub is a perfect scrub to remove unwanted tan from your face and body. It removes all the impurities and toxins from your skin, thus enhancing complexion and brightening the skin. Our antioxidants-rich scrub fixes skin puffiness and keeps the dark spots at bay.
CONTROLS ACNE & RENDERS SMOOTH SOFT SKIN: Part ways with painful acne with Matra Arabica Coffee Scrub that has a deep cleansing mechanism that unclogs pores and controls acne and pimples. It maintains the skin's pH balance and fights acne-causing bacteria. It clarifies, soothes and deeply exfoliates resulting in soft, supple skin.
MATRA ARABICA COFFEE SCRUB SUITABLE FOR ALL: Matra Arabica Coffee Scrub is natural, free from parabens, sulphates, harmful chemicals, glycols, petrochemicals, and phthalates. It is suitable for both men and women and all skin types.
How to Use:
Apply the scrub on cleansed, wet face or any part of the body (elbow, knee, neck)

Gently massage in upward circular motions for two minutes

Rinse off with water and pat dry with a soft cloth

Use once or twice a week for better results