The Umpteen Benefits of this natural plant for glowing face and clear skin
You must be well apprised of aloe vera's dominance in the beauty and skincare industry because it is not an ordinary plant that grows in our backyard with its roots in folklore. It has the power to nourish! Aloe vera, also known as Aloe barbadensis miller, is one of the most commonly used herbal treatments for topical skin conditions. Not only that, but it's also the heart of a multibillion-dollar industry. The advantages of this "miracle vine" are all around us. From nutritious juices to makeup and hair care, there's something for everyone. Isn't it funny how we've tried and tested every single beauty ingredient to get the elusive'mystic glow,' but aloe vera has yet to become a staple in our skincare routine?
Let's take a look at some compelling reasons to do so. Aloe vera has slowly but steadily made its way into almost every aspect of our lives. It possesses a wide range of fitness, appearance, medicinal, and skincare benefits. The generation before knew this well. That is why it has been regarded as "the universal panacea" by Greek scientists and "the plant of immortality" by the Egyptians. It's also a well-known medicinal plant. Not only does this gooey superhero provide relief from monstrous sunburns, but it also aids in the treatment of frostbite, psoriasis, cold sores, and other skin disorders. Aloe vera gel is also your saviour if you want to get rid of blemishes and wounds. Uh, multitasking.
What is aloe vera gel, exactly?
All about aloe vera gel and its uses …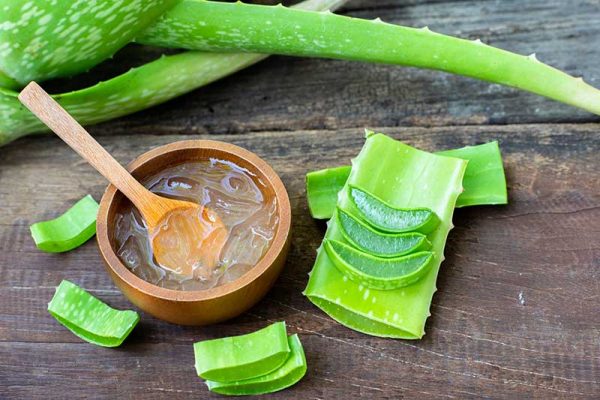 Aloe vera gel is the translucent gel-like material found within the plant's leaves. Vitamins, salicylic acids, enzymes, lignin, saponins, minerals, carbohydrates, and amino acids are among the 75 potentially active constituents.
Despite the fact that this super ingredient was just recently, it has long been documented in the beauty bible for its numerous benefits. The best part is that, unlike most skincare ingredients, it works with almost all skin types, including dry, oily, and sensitive skin. The most powerful type of aloe vera gel is found within the plant's leaves. However, I am aware that not all people have an aloe plant hanging around their house. In such instances, over-the-counter (OTC) goods suffice. If you want the best performance, look for a gel that has aloe vera as its main ingredient! To be honest, aloe vera extracts don't work as well as gel for skin ailments. This is due to the fact that the gel contains moisturising elements that protect and heal the skin.
Now is the time to stop scratching your head and consider whether, with all the excitement surrounding the plant, Aloe Vera should become a permanent fixture in your skincare routine. Ok, I'd say yes.
You might have had a glance at this thorny green plant a million times without being aware of the million ways in which you can use the precious Aloe Vera plant and its gel for your face and skin. But don't worry; we will be covering that for you in this article:)
Benefits of Using Aloe Vera on Your Face and skin

1. It Soothes Sunburns
Would you believe me if I say that we also refer to aloe vera as a "burn plant?" Only because it has superpowers to very effectively soothe the sunburns. You are not dreaming, this mighty plant contains certain compounds known as polysaccharides. They promote skin repair and the establishment of new skin cells. Aloe vera contains carboxypeptidase, a pain-relieving drug. Also, the source of the chilling, calming feeling. Aloin (the compound responsible for the plant's anti-inflammatory properties) prevents sunburned skin from peeling.
One can also apply aloe vera on the face to get rid of visible signs of sun damage like mild sunburns, freckles, or dark spots. 
2. Magic happens when it moisturizes
If you don't know the difference between noob and pro, you will in a second. Aloe Vera gel differs from store-bought moisturisers in that it does not leave a greasy residue on the skin or face. It softens the skin and clears the pores instead.
Men can use it as an aftershave treatment since Aloe Vera gel helps keep the skin hydrated and heals burns by razor and smaller nicks & cuts. It also helps treat dry skin. Enable aloe vera to extract all the dullness from your skin if you love yourself. You'll be wearing it for the rest of your life, after all. Always note that the purest Aloe is the strongest.
3. It Fights Acne and Fades Blemishes
Use aloe vera every day to keep blemishes and acne at bay. Yes, far far away! This plant is highly prized in the cosmetics industry due to its antibacterial and anti-inflammatory properties. It inhibits the growth of the bacteria that causes acne. As mentioned above the salicylic acid in Aloe Vera helps in unclogging the pores, which is a very nice thing when you deal with pimples and blackheads. Aloe vera also helps in removing the pesky scars and fading the blemishes. Ladies, it's time to say goodbye to your blemishes and hello to aloe!!!
4. Aloe Vera is a super ingredient for sensitive skin. The list of its benefits is never-ending? Literally. I mean it.
It Helps In Relieving Skin Irritation

 It Treats Mouth Sores

 It Cleanses The Skin

 It Slightly Exfoliates the Skin

 Aloe Vera has antioxidants, vitamins A and C, and enzymes, which can treat dry skin, burns, acne, and several other skin issues.
With all these wonderful benefits, Aloe Vera is very good for the face.
Looks like your hair needs some attention too, so let's dive into what aloe Vera can do for your hair…
Aloe Vera for Hair & Scalp
Aloe vera gel uses and benefits for shiny, silky, and smooth hair.
1 – Long tress and no more stress
Aloe Vera gel, like skin reproduction, aids in the activation of new hair growth by increasing blood supply to the scalp. It also gives you the minerals and vitamins you need. It contains proteolytic enzymes that aid in the repair of dead scalp tissue. As a result, aloe vera is an excellent scalp treatment. Your life may not be flawless right now, but your hair will undoubtedly be when you use Aloe Vera!
2 – It's tough enough to treat your dandruff!
Dry skin, fungal infections, and overly oily skin are all helped by the gooey superhero. Both of these factors contribute to dandruff. It is one of the most natural remedies for dandruff.
3 – Acts as a conditioner to hair and scalp
My friend has been using aloe vera for the past three weeks. And when I met her the first thing that came out of my mouth as – if your hair were any shiner, I'd need sunglasses. That makes it obvious that aloe vera gel is amazing when it comes to conditioning your hair. Just as how Aloe Vera moisturises the skin and softens the hair in the same way as it moisturises the skin. Applying Aloe gel to the hair and scalp on a regular basis helps to keep the hair healthy.
How to choose the best aloe vera gel
Now that we know how good aloe vera gel is for skin and hair we should also try to understand how to choose the best one. The reason being: not all of us have this gorgeous gooey super ingredient grown to use naturally and directly. So keep these tips and info from dermatologists in mind before you commit to a bottle of aloe.
The higher the percentage, the better.
Pure products are perfect, they say! If the percentage of aloe vera is low, that means it contains several other additives, such as thickeners, preservatives, colors, and fragrance. These additional ingredients may make the aloe vera less effective. Although some preservation is necessary. What you may do is try to find one that has the least number of ingredients, and the highest percentage of aloe vera. This will help. 
Watch out for tricky wording
To be true, marketing gimmicks of the 21st century are far beyond consumer's understanding. When the label says "100 percent gel," that means that it's a pure gel, not pure aloe vera. Smart consumers should look for words like "99 percent pure aloe vera" on the bottle, or make sure that aloe vera is listed first on the ingredients list—the more ingredients listed before aloe, the less aloe is in the product.
Check the expiration date.
To be sold in a variety of stores, products must also contain a preservative to prolong shelf life and protect against microbes. Shorter-shelf-life aloe vera gels, on the other hand, may mean a cleaner product. Bear in mind that aloe vera gels containing alcohol, scent, or colur should be avoided.
 If you're able to reap the benefits of adding aloe vera into your skincare routine but don't want to go through the hassle of shopping for it, here's the best product to help you save time…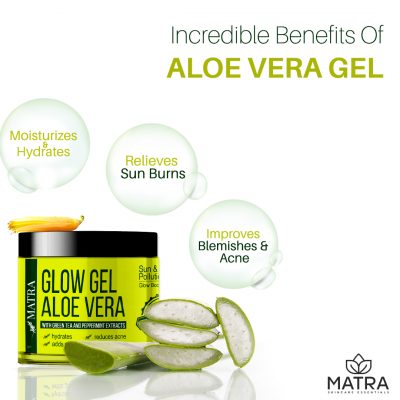 Matra's Aloe Vera Glow Gel with Green Tea and Peppermint Extracts gives you an everlasting glow and absolute protection from sun and pollution damage. This Aloe Vera Glow Gel is antioxidant-rich that is infused with the additional benefits of Green tea. This gel is suitable for all skin types. It is a natural aloe vera glow gel without parabens, SLS, and petroleum.