Just like our health, our skin needs to be taken care of too
While we all celebrated the festive season with full enthusiasm, we ignored the silent cries of the environment. On top of that, the burning of crackers despite the ban, emission from vehicles, crop burning, and extreme changes in the weather further aggravated its condition which led to extreme pollution. Apart from health issues, pollution is equally responsible for causing harm to your skin. It makes your skin look damaged, old and dull. So, whether you stay indoors or outdoors, you just can't escape the wrath of pollution. 
Huh? My skin isn't safe inside my house too? 
Your skin is still prone to pollution inside your house as the air may include dirt, dust, and gases from cooking. This slowly causes damage to your skin and health. Long-term exposure to outdoor pollution makes the tiny particles infiltrate the epidermis making your skin look dry. This depletes collagen production and impairs the skin barrier. 
Let us understand in-depth how environmental pollution affects the premature aging of the skin.
Environmental Pollution and Premature Skin Aging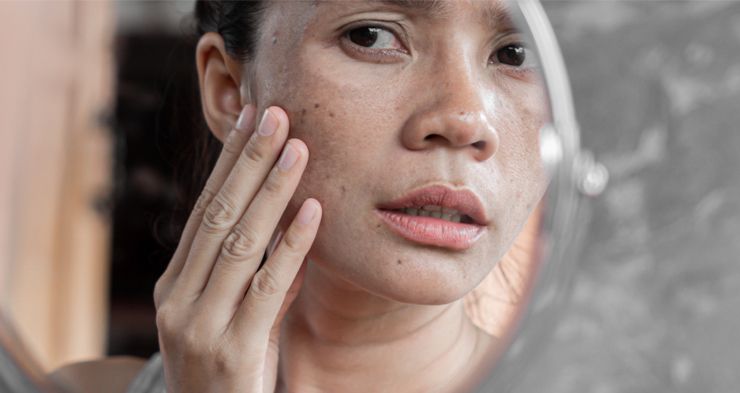 Harmful UV rays of the sun and long-term exposure to pollution damage the skin's surface, lead to premature aging , and sometimes increase the risk of skin cancer. Both visible and invisible pollutants like cigarette smoke, smog, dust, dirt, fumes, car exhaust, etc, lead to the early formation of wrinkles and dark spots. These pollutants don't sit on the layer of your skin, rather they go deep into the skin's surface. This causes dehydration, depletion of collagen, loss of elasticity, and inflammation. 
The most important thing to worry about is that they increase the levels of free radicals. Wondering what that means? Free radicals are atoms that attack the skin cells. They disturb collagen production, thin the skin, damage the DNA, and increase the skin's elasticity. These free radicals create oxidative stress to the skin and inflame it. As a result, our immune response gets activated. It further accelerates the signs of aging and the visible signs that can be seen near our eyes and lips.
Some ways to protect your skin from the adverse effects of pollution
Now we know that there's no way of escaping the wrath of pollution. So, it is important to take care of your skin by following some simple steps mentioned below:
Double Cleansing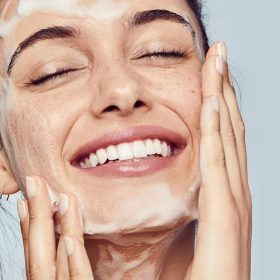 With harmful pollutants in the air and hours of build-up of makeup and sunscreen, our skin tends to get dry over the day. You need to get rid of the impurities by cleansing your face daily. Start with an oil-based cleanser as it removes all the makeup residue, followed by a water-based cleanser that effectively removes all the dirt, sebum, and pollutants from the air.
Exfoliation
No matter how many times we tell the importance of exfoliation, it will never be enough. Exfoliation removes all the dead skin cells, dirt, and impurities from deep within the skin's surface. Exfoliating once or twice a week protects the skin barrier from harmful pollutants present in the air. 
Load up on Antioxidant-rich Serums
Applying a serum rich in antioxidants enables your skin to fight free radicals and protect from environmental triggers. Use an antioxidant-rich serum during the day that will protect your skin from pollutants in the daytime, and a night serum to boost the repair of skin cells. Look for serums that contain Vitamin C, Vitamin E, and anti-pollution ingredients that improve skin's natural defense, protect the barrier, and brighten complexion over time.
Mask it Up!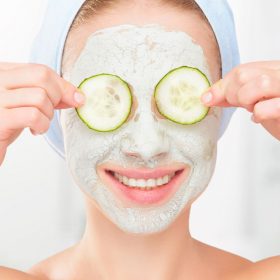 Face masks having ingredients like Activated Charcoal, Kaolin Clay, and Aloe Vera have a tremendous effect on the skin damaged by the toxic pollutants. Face masks remove all the dirt clogged between the pores and protect the skin from pollution.
Eye Care
As we know, the damage by pollution causes your skin to age prematurely so, the first visible sign starts appearing under our eyes. Excessive exposure to the sun and heavy pollution lead to the formation of fine lines and wrinkles. To deal with this, you need to incorporate an under-eye cream or serum at night. This will make all those signs of stress and aging disappear so your eyes look lively and plumper in the morning.
Moisturize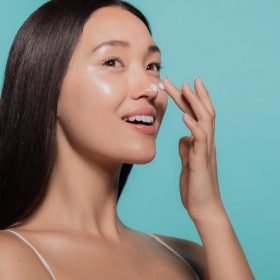 Harmful pollutants and poor air quality make your skin dry and damaged, that is why it becomes important to moisturize your skin every day.  Ingredients like Cocoa Butter and Olive Oil provide deep nourishment and prevent the skin from getting cracked and damaged. Applying a moisturizer calms the effects of environmental stress and locks in moisture into the skin.
Shield with Sunscreen
Applying sunscreen is probably one of the best ways to protect your skin from the harmful UV rays of the sun. Regular application of sunscreen reduces your chances of getting skin cancer and protects your skin from premature aging.
You can't achieve protection from the pollution just by following a skincare routine….
Apart from following an effective skincare routine, you need to make some important healthy lifestyle changes. This needs to be done to limit your skin's exposure to both indoor and outdoor pollution.
How can you do it? Let's see-
Keep yourself hydrated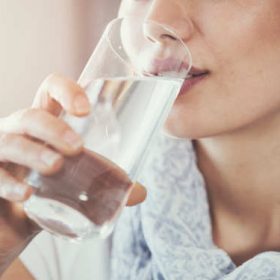 It is important to keep yourself hydrated every day to flush out all the toxins from your body. You can also prepare detox water at home to give your body the required antioxidants.
Have an antioxidant-rich diet
Antioxidants are the most effective in fighting off free radicals and they keep the body healthy from within. Incorporating food items rich in Vitamin C, Zinc, Vitamin E, and Beta-Carotene in your diet will make your skin and body ready to fight against pollution.
Prevent Indoor Pollution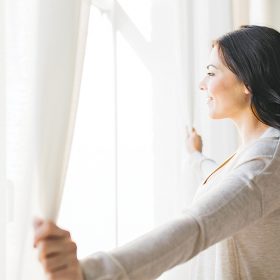 One of the easiest ways to prevent pollution is to ventilate your house. Practice opening the windows and doors from time to time to let the fresh air enter in. Install chimneys in the kitchen and exhaust fans in the bathroom to remove contaminants in the air. You can also install air purifiers at your home or at your work place as they filter air and make the air clean.
Avoid Smoking
Smoking already has millions of cons, and adding another disadvantage gives it all the more reasons to avoid it. Smoking cigarettes leads to premature aging of the skin and develops fine lines around your mouth. So, it's better to avoid it at all costs!
Taking the right measures
No matter where you live, there is no escaping pollution. Luckily, following a proper anti-pollution skincare routine with a healthy lifestyle will help prepare your skin against toxic pollutants in the air and premature aging.
Here's to better skin and well-being!