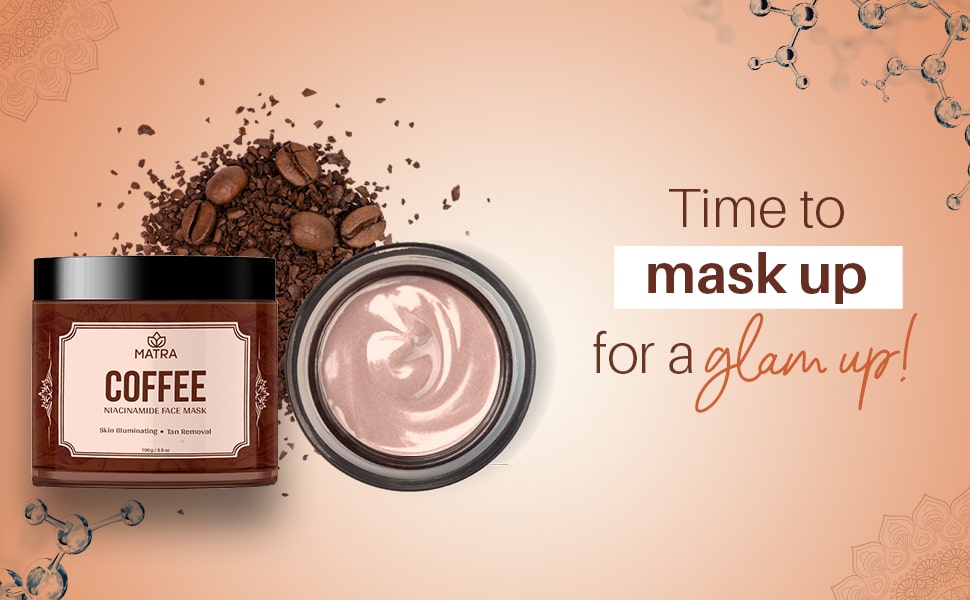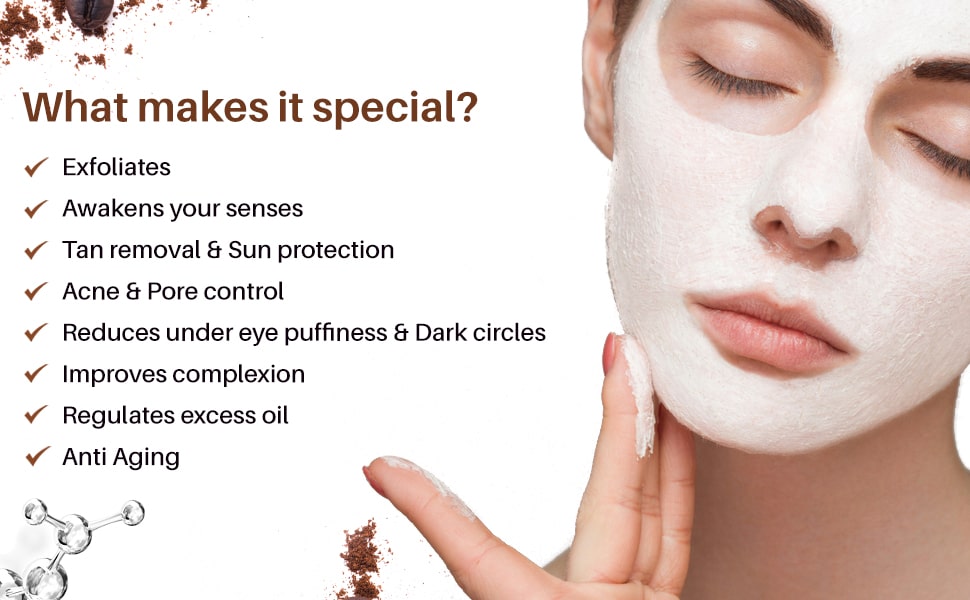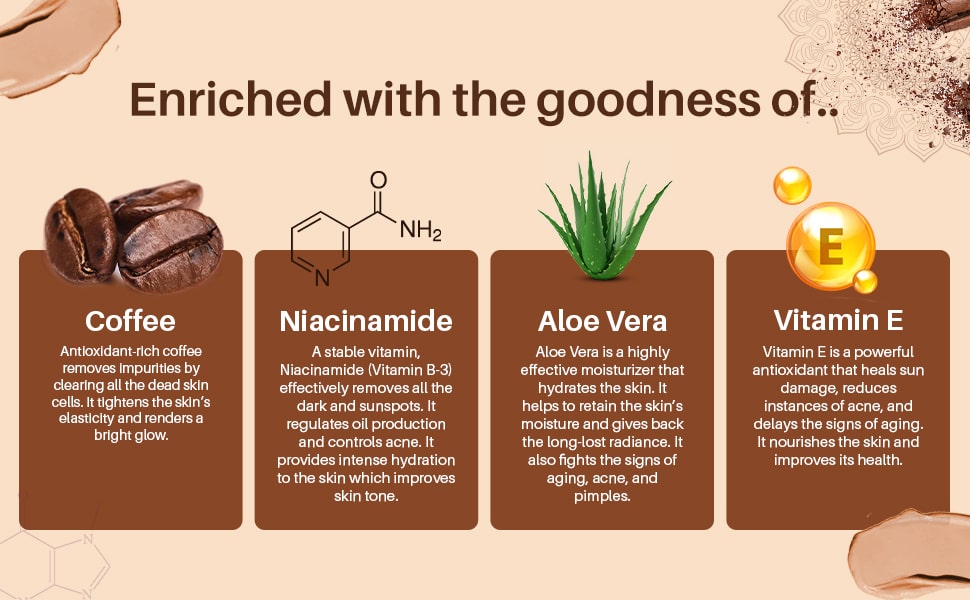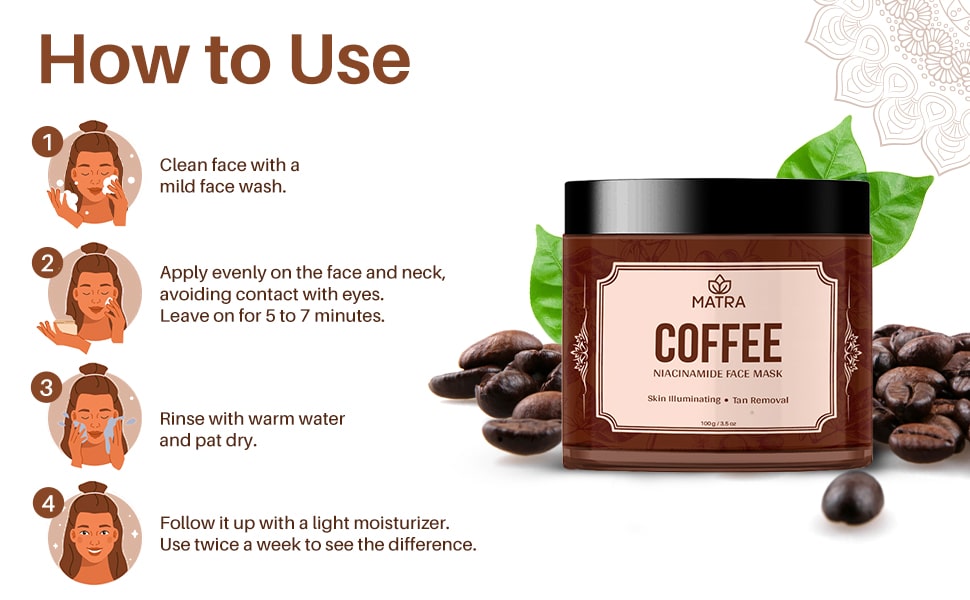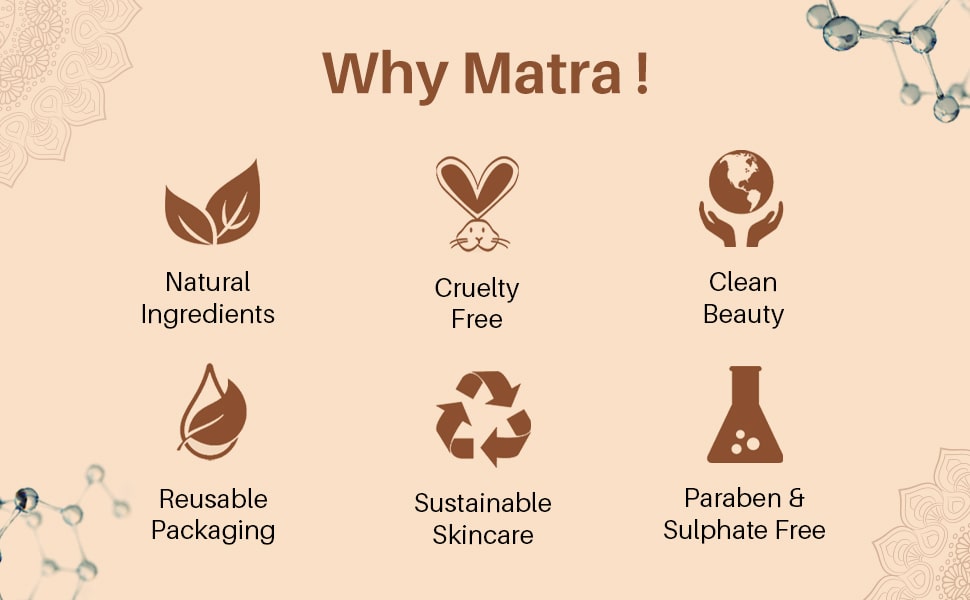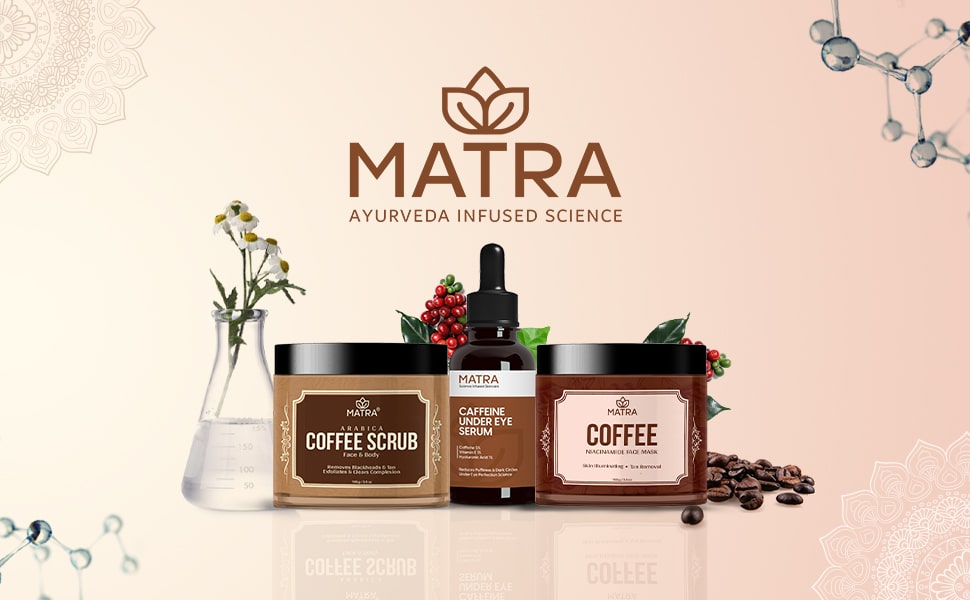 Matra Coffee Face Mask infused with Niacinamide, Vitamin E and Aloe Vera deeply cleanses and rejuvenates the skin. It detoxifies, removes excess oil, and draws out all dirt and dead skin resulting in acne and blackhead control. It removes tan, eliminating dark spots and hyperpigmentation thus improving complexion with persistent use. 
Antioxidant-rich coffee soothes skin, tightens pores, and enhances collagen production rendering healthy, youthful skin. 
Niacinamide (Vit B3), is a wonder ingredient that fights acne, protects against sun damage, and treats hyperpigmentation.
Benefits:
EXFOLIATES AND BRIGHTENS: Matra Coffee Niacinamide Face Mask is packed with exfoliating coffee that gets rid of all the dry and dead skin cells. The stimulating properties of coffee improve blood circulation leading to a smoother and refined complexion. The natural skin brightening ingredients in our face mask reduce the appearance of dark spots and hyperpigmentation making your skin appear more radiant and bright. 
REMOVES TAN, SUN PROTECTION & ANTI AGING: Antioxidant-rich coffee in Matra Coffee Niacinamide Face Mask protects the skin against the harmful UV rays of the sun. It slows the aging of the skin caused by sun exposure and reduces fine lines and wrinkles. It is an effective tan removal face mask that yields a glowing effect when the mask is washed away.
OIL & ACNE CONTROL: Matra Coffee Niacinamide Face Mask is carefully crafted to combat acne and remove acne scars by deep cleansing the skin from within. Exfoliating coffee extracts regulate oil production and lock in moisture making it a perfect mask for oily and combination skin types.
REDUCES PUFFINESS AND DARK CIRCLES: Matra Coffee Niacinamide Face Mask aids in dilating those blood vessels that contribute to the formation of dark circles and helps in their reduction. This increases blood flow which naturally lightens and tightens the under-eye area and reduces eye puffiness. This results in increased elasticity and a firmer-looking face.
COFFEE NIACINAMIDE FACE MASK SUITABLE FOR ALL: Matra Coffee Niacinamide Face Mask is natural, free from parabens, sulfates, harmful chemicals, glycols, petrochemicals, and phthalates. It is suitable for both men and women and all skin types.
How to Use:
Clean face with a mild face wash

Apply evenly on the face and neck, avoiding contact with eyes. Leave on for 5 to 7 minutes. 

Rinse with lukewarm water and pat dry

Follow it up with a light moisturizer. Use twice a week to see the difference